November, 11th-12th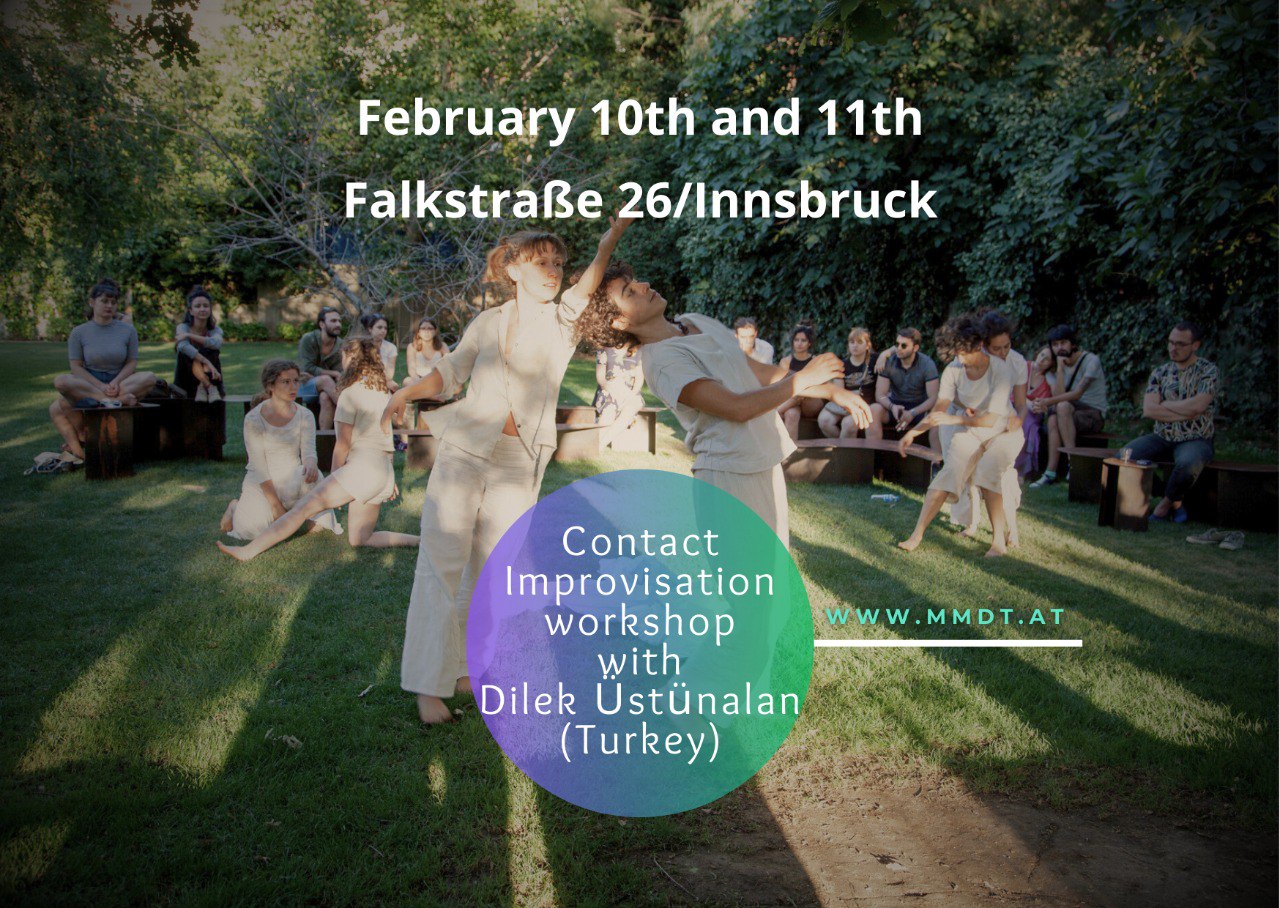 Contact Improvisation Workshop
With Dilek Üstünalan (Turkey)

Saturday and Sunday: 12:00-15:00/16:00
(Depends on the size of the group)
Address: Falkstraße 26, 6020 Innsbruck

Workshop description
Contact Improvisation Workshop: Precarious Balances In this workshop, we will explore the fluid and temporary balancing moments that we move through in our dances. We will practice falling into different directions, rising up with the support of the ground, feeling both our own and our partners' connection to the earth while we are off-balance. We will try to sense the potential of balancing moments and try to open space for different possibilities to emerge. Even in situations that may be troubling for us to stay in, we will experience inhabiting and what changes as we settle in.

Bio
Dilek Üstünalan is a dancer, researcher, sociologist, non-formal education facilitator, thai massage therapist and organizer based in İstanbul. She is now living in Trento, İtaly for her PhD research. She has been teaching contact improvisation in different cities of Turkey (İstanbul, İzmir, Ankara, Eskişehir, Hatay…) for about six years. She takes part in the organization and facilitation of CI workshops, camps, jams and labs. She is part of the organizing team of the annual Fall in CI - International Contact Improvisation Gathering, in Turkey.
She had the chance to study with many precious instructors and share the dance with many dancers from different parts of the world by participating in international dance festivals/ gatherings/ research such as ImPulsTanz, Contact Festival Freiburg, CECITE, Sensing In, CIRP. She is interested in practicing movement research in diverse areas, and exploring the potential of arts and movement for creating ways of living together and embracing differences.
It is very important to us that teachers are well paid. We would also like to give people of all income levels the opportunity to dance, which is why we offer a discount for early registration.
We hope for your understanding.
Registration before November 4:
Registration after November 4:
If you have any questions, please email: motion.mode.theatre@gmail.com
MODUL OF 5 DANCE SESSIONS IN TIROL

30.03; 06.04; 13.04; 20.04; 27.04 - Contemporary Dance Workshop in Innsbruck
18:00-19:30.
Address: Falkstraße 26, 6020 Innsbruck
WhatsApp: +4367763027506

Deadline for registration: 27th of March
Classes are happening after 4 registrations.
In case classes will be canceled, the payment will be returned.

100 euros.
Contemporary Dance & Contact Improvisation Workshop

December 4th/Innsbruck:
12:00 - 13:30 Contemporary Dance Workshop with Rebecca Plattner.
14:00 - 16:00 Contact Improvisation Workshop with Tamara Maksymenko.
All levels of dance experience are welcome.
16:00 - 18:00 Jam with live music: Denis Vasylynets (violin).
Link to the description of an event
Address: Falkstraße 26, 6020 Innsbruck
WhatsApp: +4367763027506